As we look forward to the New Year I thought I'd document a review of 2008 from a flyballing perspective so here goes...
Drake
,
Teal
,
Faith
, and
Dylan
all made their Open competition debuts at the start of 2008 and proved to be little flyballing stars....
Ethan
,
Drake
,
Dylan
and
Faith
are all now 'Advanced' with
Teal
not far behind.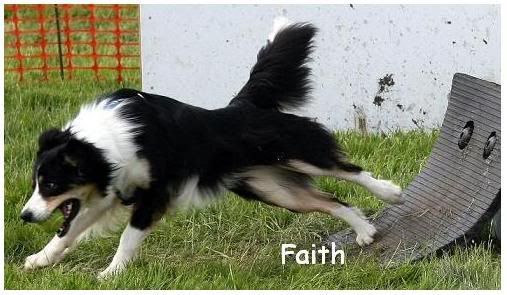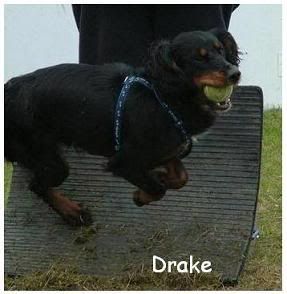 In May we won Division One for the first time with our old team, Red Rose Rebels...this team included
Mac
,
Dylan
, Bailey, Misty and
Oz
. It was this same weekend that Gemma and I decided to leave Red Rose and start out on our own smaller and more relaxed flyballing venture; Paul, Alison and Trish came with us and the
'Demon Dogz'
were formed.
Also back in May,
Lexie
achieved her Gold Award and Bailey his Pearl.
The
'Demon Dogz'
ran for the first time at Rotherham back in July with rosettes for all 3 teams, the following weekend all 3 teams ran new fastest times down at Chilterns show where the Speed Demonz ran 17.59, the fastest time we'd ever run before.
We spent a fantastic 10 days away together for Anglesey and Eastham and then competed in Division One at the British Championships in August, a really amazing experience for us all and a great achievement for our little team. August was topped off with our first Division One win with the Speed Demonz at Ryecroft Farm and a new fastest time of 17.48
September was a total wash out but
Storm
made his comeback at Rotherham in October, The Racers ran a new fastest time of 18.88
November saw the Speed Demonz seeded 3rd in the country. The Demonz and Racers had a fantastic day at Selby college coming 1st and 2nd in Division One. The Pawz ran a new fastest time of 19.71
The year was rounded off with another Division One win for the Speed Demonz at Doncaster in December.
Also, since running as the Demonz,
Dottie
and
Pip
have gained their Silver Awards,
Lexie
and
Mac
their Ice Blue Moon's, Storm and Frostie their Pearl and Bailey his Jade.
Not sure we're going to be able to top that in 2009 but we'll have fun trying!! lol